Events
We post Equity, Diversity and Inclusion related events on Campus. If you would like to have your event included please notify us at diversity@ucsd.edu.
To help make your event accessible and enjoyable for all refer to UC San Diego's Accessible Event Planning Guide.
hosted by the The African American Studies Minor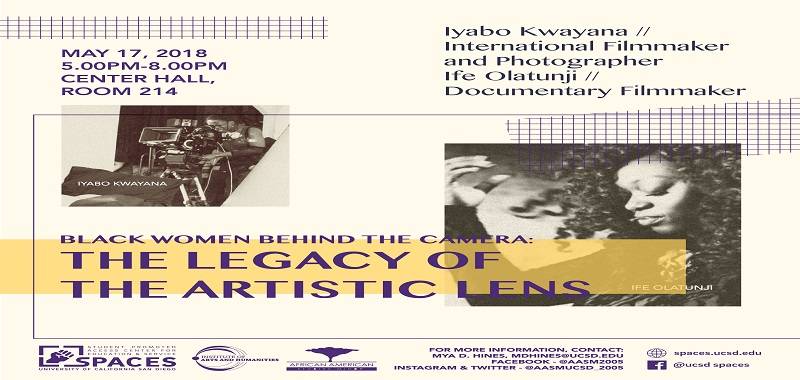 The African American Studies Minor Program presents Black Women Behind the Camera: The Legacy of the Artistic Lens. Please join us to engage with two Black women filmmakers who use their creative voice to illuminate the complexities of Black life and shape the narratives of Black women. We will explore the imaginative and inspired works of Iyabo Kwayana, cinematographer and independent filmmaker and Ife Olatunji, International Filmmaker and Photographer. We will view films by each filmmaker and host a Q & A after the screenings. 
---
Save the Date
Thursday, May 17, 2018
5:00 - 8:00 p.m
Center Hall
Room 214
Event is Free! Register Here
hosted by the UC San Diego Division of Arts & Humanities | Institute of Arts & Humanities (IAH)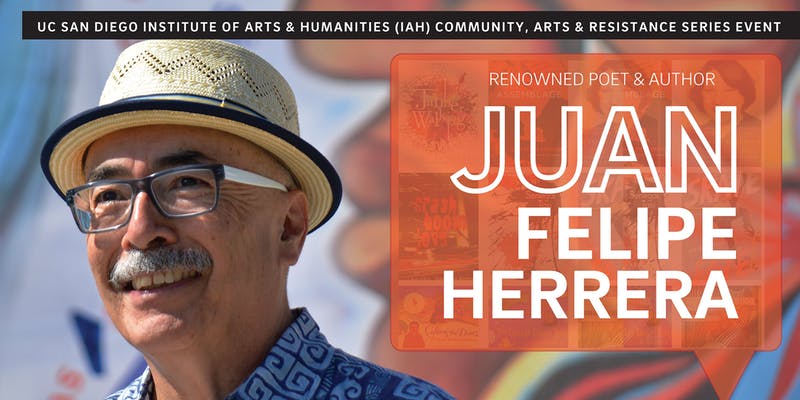 Juan Felipe Herrera is the 21st Poet Laureate of the United States (2015-2016) and is the first Latino to hold the position. From 2012-2014, Herrera served as California State Poet Laureate. Herrera's many collections of poetry include Notes on the Assemblage; Senegal Taxi; Half of the World in Light: New and Selected Poems, a recipient of the PEN/Beyond Margins Award and the National Book Critics Circle Award; and 187 Reasons Mexicanos Can't Cross The Border: Undocuments 1971-2007. He is also the author of Crashboomlove: A Novel in Verse, which received the Americas Award. His books of prose for children include: SkateFate, Calling The Doves, which won the Ezra Jack Keats Award; Upside Down Boy, which was adapted into a musical for young audiences in New York City; and Cinnamon Girl: Letters Found Inside a Cereal Box. His book Jabberwalking, a children's book focused on turning your wonder at the world around you into weird, wild, incandescent poetry, is forthcoming in 2018. Herrera is also a performance artist and activist on behalf of migrant and indigenous communities and at-risk youth.
---
Save the Date
Thursday, May 17, 2018
6:00 - 8:00 p.m
Atkinson Hall Auditorium
Qualcomm Institute Building
Event is Free! Please RSVP by registering as space is limited.
A sister event will be held:
Friday, May 18, 2018
The New Children's Museum
Register for that even HERE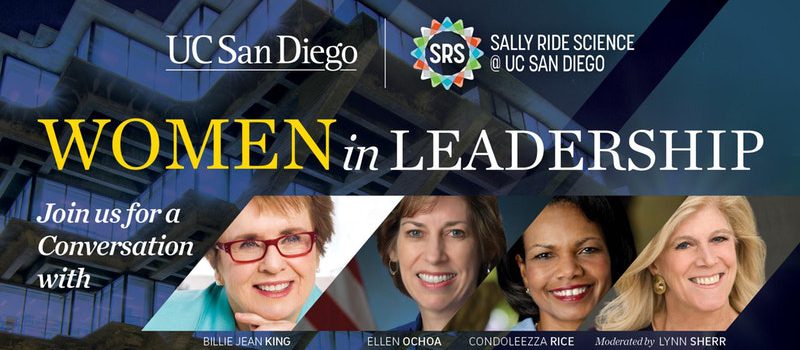 Sally Ride blasted off aboard shuttle Challenger on June 18, 1983 to become the first American woman—and, at 32, the youngest American—in space. She flew on Challenger again in 1984 and later was the only person to serve on both panels investigating the nation's space shuttle disasters—the Challenger explosion in 1986 and the breakup of Columbia in 2003.
To celebrate the release of a U.S. postage stamp honoring the pioneering astronaut, three trailblazing women will sit down together May 23 for a conversation on Women in Leadership hosted by Sally Ride Science at UC San Diego.
The three women taking part in the panel discussion, who were all close friends of Ride, are:
Billie Jean King, tennis legend and champion of social change
Ellen Ochoa, first Hispanic woman in space and director of Johnson Space Center
Condoleezza Rice, 66th

 

U.S. Secretary of State
With journalist and author Lynn Sherr serving as moderator, they will share their personal stories and their vision for how women can help lead our nation to a better future.
---
Save the Date
Wednesday, May 23, 2018
Stamp Ceremony: 5:00 p.m.
Panel Discussion: 6:30 p.m.
Price Center

Find out more information about the stamp ceremony performed by the U.S. Postal Service.



Special Series on The Science of Human Diversity
In the special series of invited lectures, we will explore the psychological science of human diversity, spanning questions including the nature of human diversity, attitudes toward it, reasons for lack of diversity in the workplace, and how diversity affects creativity and the scientific process.
Over three academic years (Fall 2016 to Spring 2019) the series will feature nine talks from world famous experts on diversity science.
View schedule of guest lectures
All Special Series Talks are held in the Crick Conference Room, Mandler Hall room 3545.