Events
Below you will find campus events related to equity, diversity, and inclusion. If you would like to have your event included please notify us at diversity@ucsd.edu.
To help make your event accessible and enjoyable for all, please refer to UC San Diego's Accessible Event Planning Guide.
The Institute of Arts & Humanities presents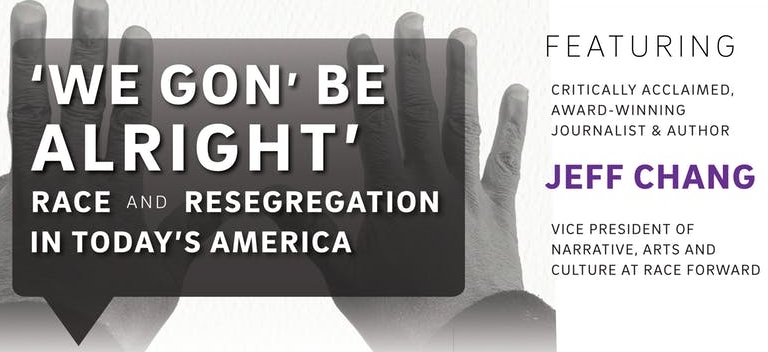 Monday, May 13
5:00 – 6:30 p.m.
Great Hall
Eleanor Roosevelt College
Police violence, mass incarceration, and issues of race and representation in Hollywood plague us. And resegregation is quietly pushing us back. After so much unrest and tragedy - how can our communities heal? What can we expect for race relations in a changing, polarized America? To Chang, not all is lost.
"Culture moves before politics," says Jeff Chang, who writes on art, multiculturalism, and racial progress in post-civil rights America with the sweeping authority of the best social historians. In his new book We Gon' Be Alright, he explores the meaning of diversity in an era of racial and economic resegregation: telling a lively and tumultuous narrative of modern American life.

Event is open to the public. Light refreshments will be provided. Seating is limited. Priority will be given to those attendees that arrive first. Please RSVP for a quicker check-in.
The LGBT Resource Center presents
April 8 through April 27
The Out and Proud Series presents the largest opportunity for community visibility on the UC San Diego campus. It is a time for reflection on the achievements of LGBTQIA+ identified students, staff, faculty, and our allies. It is also a time for public awareness and discussion of current LGBTQIA+ issues on the state and national levels. This year's theme is #WontBeErased

While historically this celebration has been called Out and Proud Week, experiences of Pride movements and narratives of coming out need critical examination. Not everyone is out nor wants or needs to be. Coming out is not a single action, but a continuous process that often needs to take place multiple times throughout a person's life. It is also different around sexuality, romantic attraction, gender identities and expressions, and for many coming out and expressions of pride may not be safe. We appreciatively challenge what being Out and Proud means and honor the diversity within our community.

Visit the LGBT Resource Center's Out and Proud webpage to see a list of events.
The Institute of Arts & Humanities presents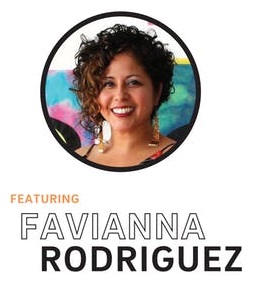 Thursday, April 18
2:00 – 4:00 p.m.
The Loft (Price Center, 2nd Floor)
A talk featuring artist/activist Favianna Rodriguez, whose work and collaborative initiatives address migration, economic inequality, gender justice, and ecology. She'll explore how culture shapes our identity and forges our collective imagination. Join us to learn about her artistic practice and how art can inspire, educate, spur the imagination, and support social movements.
Free and open to the public. Seating is limited - please RSVP here!
The Division of Physical Sciences presents
Thursday, April 11
2:00 – 3:30 p.m.
Great Hall
Eleanor Roosevelt College
Refreshments provided
This keynote workshop by The OpEd Project is designed to bolster your ideas, leave you with a deeper sense of what you and your colleagues know and believe, and offer actionable steps for developing your own opinion pieces with impact.
The free workshop will:
Present current data on the demographics of public discourse.
Address core questions of thought leadership.
Include a large group experiment in credibility.
Provide the tools needed to develop written opinions effectively, an important skill for science advocacy.
Open to faculty, postdoctoral scholars, graduate students and staff, with a special invitation to women and underrepresented minority researchers.
Keynote presenter Katie Orenstein is founder and CEO of The OpEd Project—a social venture with a mission to increase the range of voices and quality of ideas we hear in the world. A starting goal is to increase the number of women thought leaders in key commentary forums to a tipping point.
Register at https://www.eventbrite.com/e/owning-expertise-tickets-58594582975
This program is supported in part by an Innovation Grant from the Office of the Vice Chancellor for Equity, Diversity, and Inclusion.
Tuesday, April 9
11:30 a.m. – 1:30 p.m.
Price Center West, Ballrooms A and B

UC San Diego's opening event includes awards honoring individuals that uphold the legacy of César E. Chávez by serving the community and advocating for the rights of the voiceless and underserved. Featuring keynote speaker: Andres P. Chavez, the youngest son of Socorro and Paul Chavez, Cesar Chavez's middle son. This year's theme United, Resistant, and Unafraid: Building Bridges, Breaking Down Walls, is inspired by a Chávez quote. 
More information is available on the César E. Chávez Celebration Committee webpage.

Table Sponsorship (8 seats): cesarchavezcelebrate@ucsd.edu

Ticket Information and event contact: Mario Garibay, magaribay@ucsd.edu or (858) 534-1722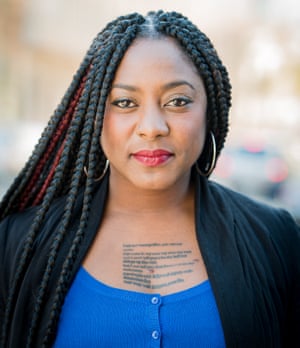 The co-creator of Black Lives Matter shares her ideas and vision for sparking comprehensive societal change and ending social injustice, police brutality and systemic racism in America.
Tuesday, Feb 26, 2019Price Center Ballroom West5:00 p.m. - 6:30 p.m.

Register at: https://www.eventbrite.com/e/marshall-college-speaker-series-presents-alicia-garza-tickets-53707300983
Sponsored by the Undergraduate Colleges
Marshall College Speaker Series presents
Constructing Past and Present Identities: Evaluating Depictions of Angela Davis in Popular Culture
A lecture by Dr. Sharon L. Jones
Thursday, November 8, 2018
Price Center Ballroom East
5:30 p.m. - 6:00 p.m.: Reception with light refreshments
6:00 p.m. - 7:00 p.m.: Lecture with Q&A
Dr. Sharon L. Jones is currently a Professor in the Department of English Language and Literature at Wright State University in Dayton, Ohio. She earned a B.A. and an M.A. from Clemson University, and she earned a Ph.D. from the University of Georgia. She is editor of Conversations with Angela Davis (under contract with University Press of Mississippi) and has been collecting and compiling interviews of Angela Davis in magazines, academic journals, and/or newspapers published from the 1970s to the present.
Space is limited. Pre-registration highly encouraged.
For more information, visit http://marshall.ucsd.edu/programs/speaker-series.html
Carrie Mae Weems Guest Lecture
Distinguished Alumna, MFA '84
November 7th, 2018
Reception: 6 p.m. / Lecture: 7 p.m.
Price Center Theater, UC San Diego
Free and open to the public

Considered one of the most influential contemporary American artists, Carrie Mae Weems has investigated family relationships, cultural identity, sexism, class, political systems, and the consequences of power. Determined as ever to enter the picture—both literally and metaphorically—Weems has sustained an on-going dialogue within contemporary discourse for over thirty years. During this time, Carrie Mae Weems has developed a complex body of art employing photographs, text, fabric, audio, digital images, installation, and video.

In a New York Times review of her retrospective, Holland Cotter wrote, "Ms. Weems is what she has always been, a superb image maker and a moral force, focused and irrepressible."

Weems has participated in numerous solo and group exhibitions at major national and international museums including the Metropolitan Museum of Art, The Frist Center for Visual Art, Solomon Guggenheim Museum in New York, and the Centro Andaluz de Arte Contemporáneo in Seville, Spain.

Weems has received numerous awards, grants, and fellowships, including the prestigious Prix de Roma, The National Endowment of the Arts, The Alpert, The Anonymous was a Woman, and The Tiffany Awards. In 2012, Weems was presented with one of the first US Department of State's Medals of Arts in recognition for her commitment to the State Department's Art in Embassies program.

In 2013 Weems received the MacArthur "Genius" grant as well as the Congressional Black Caucus Foundation's Lifetime Achievement Award. She has also received the BET Honors Visual Artist award, the Lucie Award for Fine Art photography, was one of four artists honored at the Guggenheim's 2014 International Gala, a recipient of the ICP Spotlights Award from the International Center of Photography, The WEB Dubois Award from Harvard University, as well as Honorary Degrees from: California College of the Arts, Colgate University, Bowdoin College, the School of Visual Arts and Syracuse University.

She is represented in public and private collections around the world, including the Metropolitan Museum of Art, NY; The Museum of Fine Arts, Houston; the Museum of Modern Art, NY; Museum of Contemporary Art, Los Angeles; and The Tate Modern, London.

Weems has been represented by Jack Shainman Gallery since 2008, and is currently Artist in Residence at the Park Avenue Armory. She lives in Syracuse, New York, with her husband Jeffrey Hoone who is Executive Director of Light Work.
Presented by the Department of Visual Arts with support from University Centers.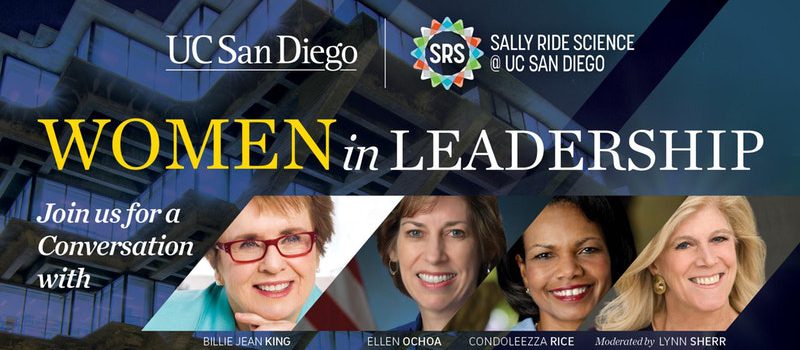 Sally Ride blasted off aboard shuttle Challenger on June 18, 1983 to become the first American woman—and, at 32, the youngest American—in space. She flew on Challenger again in 1984 and later was the only person to serve on both panels investigating the nation's space shuttle disasters—the Challenger explosion in 1986 and the breakup of Columbia in 2003.
To celebrate the release of a U.S. postage stamp honoring the pioneering astronaut, three trailblazing women will sit down together May 23 for a conversation on Women in Leadership hosted by Sally Ride Science at UC San Diego.
The three women taking part in the panel discussion, who were all close friends of Ride, are:
Billie Jean King, tennis legend and champion of social change
Ellen Ochoa, first Hispanic woman in space and director of Johnson Space Center
Condoleezza Rice, 66th

 

U.S. Secretary of State
With journalist and author Lynn Sherr serving as moderator, they will share their personal stories and their vision for how women can help lead our nation to a better future.
---
Save the Date
Wednesday, May 23, 2018
Stamp Ceremony: 5:00 p.m.
Panel Discussion: 6:30 p.m.
Price Center

Find out more information about the stamp ceremony performed by the U.S. Postal Service.



hosted by the The African American Studies Minor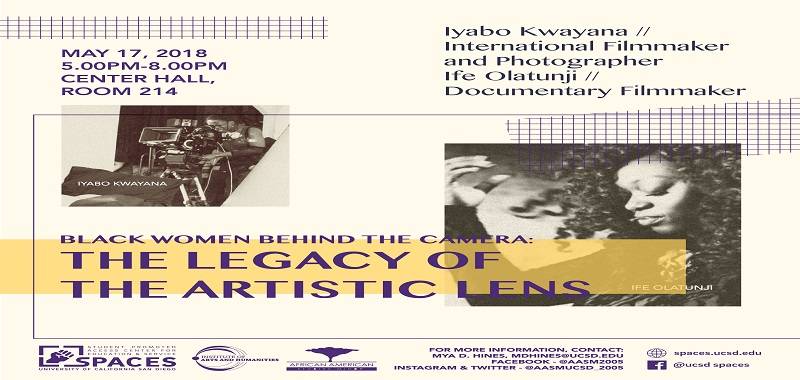 The African American Studies Minor Program presents Black Women Behind the Camera: The Legacy of the Artistic Lens. Please join us to engage with two Black women filmmakers who use their creative voice to illuminate the complexities of Black life and shape the narratives of Black women. We will explore the imaginative and inspired works of Iyabo Kwayana, cinematographer and independent filmmaker and Ife Olatunji, International Filmmaker and Photographer. We will view films by each filmmaker and host a Q & A after the screenings. 
---
Save the Date
Thursday, May 17, 2018
5:00 - 8:00 p.m
Center Hall
Room 214
Event is Free! Register Here
hosted by the UC San Diego Division of Arts & Humanities | Institute of Arts & Humanities (IAH)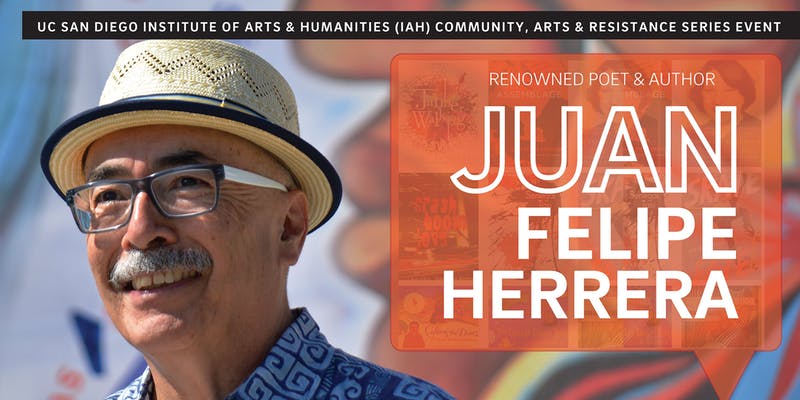 Juan Felipe Herrera is the 21st Poet Laureate of the United States (2015-2016) and is the first Latino to hold the position. From 2012-2014, Herrera served as California State Poet Laureate. Herrera's many collections of poetry include Notes on the Assemblage; Senegal Taxi; Half of the World in Light: New and Selected Poems, a recipient of the PEN/Beyond Margins Award and the National Book Critics Circle Award; and 187 Reasons Mexicanos Can't Cross The Border: Undocuments 1971-2007. He is also the author of Crashboomlove: A Novel in Verse, which received the Americas Award. His books of prose for children include: SkateFate, Calling The Doves, which won the Ezra Jack Keats Award; Upside Down Boy, which was adapted into a musical for young audiences in New York City; and Cinnamon Girl: Letters Found Inside a Cereal Box. His book Jabberwalking, a children's book focused on turning your wonder at the world around you into weird, wild, incandescent poetry, is forthcoming in 2018. Herrera is also a performance artist and activist on behalf of migrant and indigenous communities and at-risk youth.
---
Save the Date
Thursday, May 17, 2018
6:00 - 8:00 p.m
Atkinson Hall Auditorium
Qualcomm Institute Building
Event is Free! Please RSVP by registering as space is limited.
A sister event will be held:
Friday, May 18, 2018
The New Children's Museum
Register for that even HERE
Special Series on The Science of Human Diversity
In the special series of invited lectures, we will explore the psychological science of human diversity, spanning questions including the nature of human diversity, attitudes toward it, reasons for lack of diversity in the workplace, and how diversity affects creativity and the scientific process.
Over three academic years (Fall 2016 to Spring 2019) the series will feature nine talks from world famous experts on diversity science.
View schedule of guest lectures
All Special Series Talks are held in the Crick Conference Room, Mandler Hall room 3545.