Letter from Vice Chancellor Petitt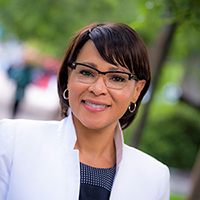 An invigorating movement is underway. Throughout UC San Diego's periods of turbulence, growth, and revitalization, we have remained steadfast in our dedication to cultivating a community with heart, where all can thrive.
This Progress Update, part of our comprehensive plan, is dedicated to periodically featuring examples of our collective efforts that help strengthen our commitment to equity, diversity, and inclusion. I am especially encouraged by the variety of initiatives and their sustained positive outcomes. These campus-wide efforts elevate our priorities and exemplify our hope, optimism, and unwavering investment in inclusive excellence, proving that, taken altogether, these distinctive interventions contribute to transformational change. 
Our comprehensive plan involves helping students, faculty, and staff make their best contributions. You may continue to rely on the Office for Equity, Diversity, and Inclusion to provide leadership and support to sustain these initiatives. We will also continue to work with our colleagues to review and improve policies and practices, to encourage use of disaggregated data in decision-making, and to enhance assessment and evaluation with the goal of increasing accountability for equitable outcomes.
While we know this work is long-term, it is important to celebrate our accomplishments. I am inspired by this momentum and our steady progress toward a more inclusive UC San Diego.
Your work matters. Thank you.
- Becky Petitt

Go back to the Progress Update