Events
Below you will find campus events related to equity, diversity, and inclusion. If you would like to have your event included please notify us at diversity@ucsd.edu.
To help make your event accessible and enjoyable for all, please refer to UC San Diego's Accessible Event Planning Guide.
Las Hermanas Iglesias: Sixth College's "Women in the Arts"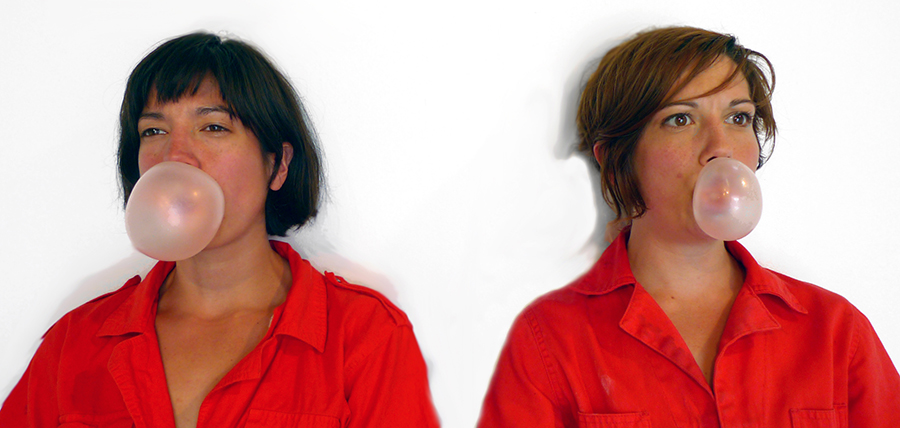 November 13, 2019
Lecture: 5 p.m.
Free
VAF 306 Performance Space, Visual Arts Facility, UC San Diego
RSVP at: https://doodle.com/poll/qxaa8e52cfat24k3
LAS HERMANAS IGLESIAS  is the project-based collaboration of artists and sisters Lisa and Janelle Iglesias. As the children of Norwegian and Dominican immigrants who grew up in Queens, New York City, their project-based, trans-disciplinary work explores issues of hybridity, social participation and transnational identities. While both artists maintain individual practices rooted in Drawing and Sculpture they have collaborated on multi-disciplinary and genre-blurring projects for over a decade. Anchored to the philosophies and contexts of intersectional feminism, teamwork, and multiplicity, their collaborative practice has evolved to incorporate a variety of relationships and structures for collectivity. Through employing playful structures that respond to the community and geographical context of each project, Las Hermanas create artworks that disrupt borders, engage absurdity, and promote the benefits of working together.
Lisa Iglesias is currently an Assistant Professor of Drawing and Director of Graduate Studies at the School of Art + Art History at the University of Florida. Janelle Iglesias recently joined the UC San Diego Department of Visual Arts as an Assistant Professor of Studio Art.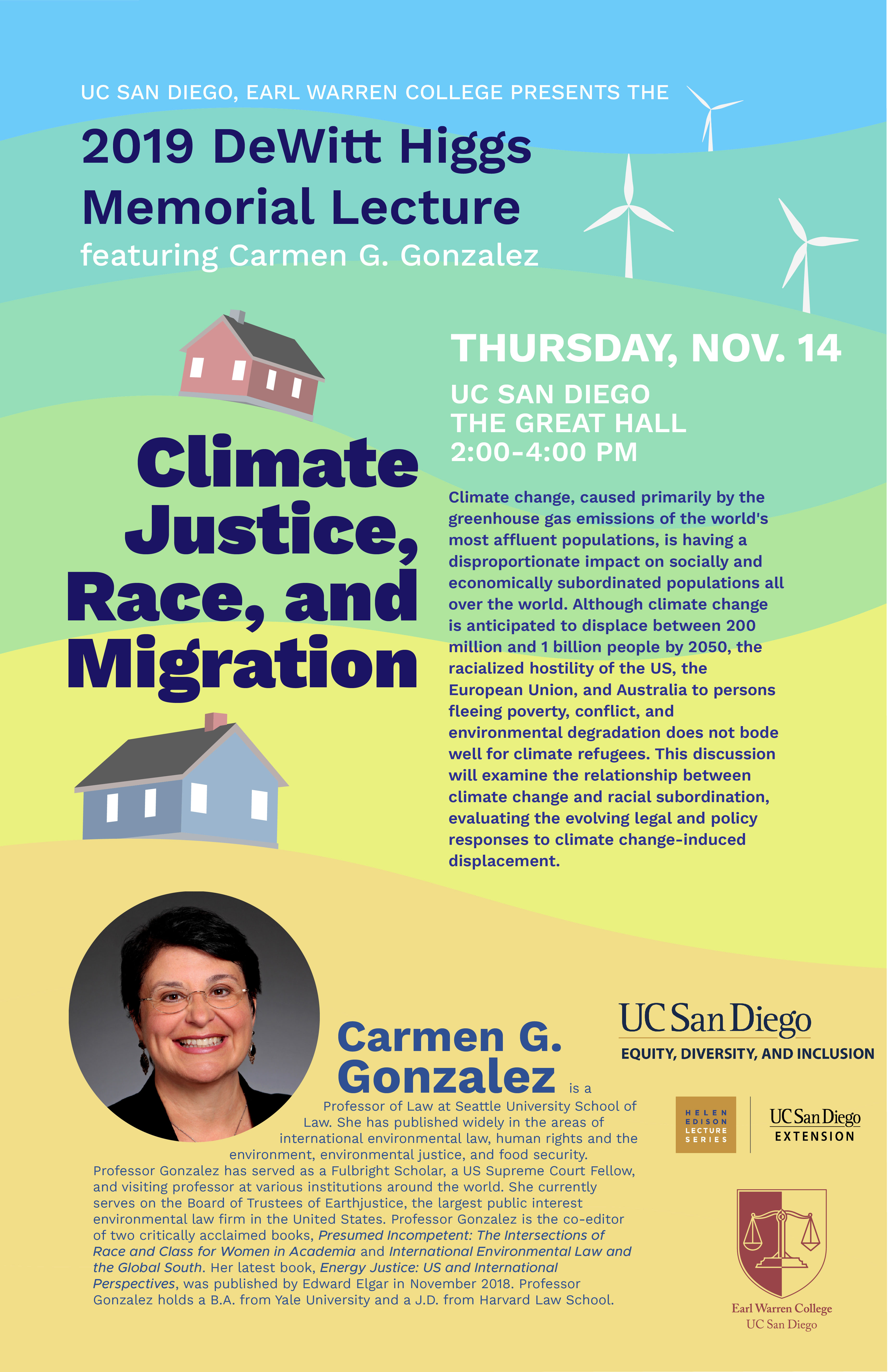 The DeWitt Higgs Memorial Lecture—sponsored by the Law and Society Program, Earl Warren College and the Higgs family—presents:
Climate Justice, Race, and Migration
Featuring Carmen G. Gonzalez
Thursday, November 14, 2019
2:00 - 4:00pm
The Great Hall, Eleanor Roosevelt College
Climate change, caused primarily by the greenhouse gas emissions of the world's most affluent populations, is having a disproportionate impact on socially and economically subordinated populations all over the world. Although climate change is anticipated to displace between 200 million and 1 billion people by 2050, the racialized hostility of the US, the European Union, and Australia to persons fleeing poverty, conflict, and environmental degradation does not bode well for climate refugees. This discussion will examine the relationship between climate change and racial subordination, evaluating the evolving legal and policy responses to climate change-induced displacement.
Distinguished speaker Carmen G. Gonzalez is a Professor of Law at Seattle University School of Law. She has published widely in the areas of international environmental law, human rights and the environment, environmental justice, and food security. Professor Gonzalez has served as a Fulbright Scholar, a US Supreme Court Fellow, and visiting professor at various institutions around the world. She currently serves on the Board of Trustees of Earthjustice, the largest public interest environmental law firm in the United States. Professor Gonzalez is the co-editor of two critically acclaimed books, Presumed Incompetent: The Intersections of Race and Class for Women in Academia and International Environmental Law and the Global South. Her latest book, Energy Justice: US and International Perspectives, was published by Edward Elgar in November 2018. Professor Gonzalez holds a B.A. from Yale University and a J.D. from Harvard Law School.
For more information, please visit the DeWitt Higgs Memorial Lecture website.
Straddling Class: Social Class & the Intersectionality of Identities in Higher Education
With Dr. Sonja Ardoin and Dr. Becky Martinez Join us in a one-day dynamic conference to discuss social class identity and the intersectionality of our identities with our social class identity in higher education. Dr. Sonja Ardoin and Dr. becky martinez will provide us the framework for our conversation, as they have engaged our higher education communities with their latest publication Straddling Class in the Academy, a book that delineates powerful lessons for higher education practice and policy. The book will also be available for purchase at a 40% discounted rate at the conference, and the authors will be available for signing during lunch.
Friday, December 20, 2019
8:30pm - 3:00pm
California State University San Marcos
Registration: NASPA members $50, non-members $75
(includes refreshments, parking, and lunch)
Sponsored by California State University San Marcos in collaboration with Student Affairs Administraotrs in Higher Education (NASPA)
For more information and registration, please visit the event website.