Events
Below you will find campus events related to equity, diversity, and inclusion. If you would like to have your event included please notify us at diversity@ucsd.edu.
To help make your event accessible and enjoyable for all, please refer to UC San Diego's Accessible Event Planning Guide.
Gender-Based Harrassment in Adolescence: The Importance of Macro and Micro Contexts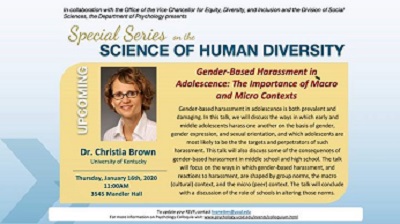 Speaker: Dr. Christia Brown
Time: 11:00am Thursday, January 16, 2020
Place: Crick Conference Room, 3545 Mandler Hall
RSVP: Click here.
 Abstract: Gender-based harassment in adolescence is both prevalent and damaging. In this talk, we will discuss the ways in which early and middle adolescents harass one another on the basis of gender, gender expression, and sexual orientation, and which adolescents are most likely to be the targets and perpetrators of such harassment. This talk will also discuss some of the consequences of gender-based harassment in middle school and high school. The talk will focus on the ways in which gender-based harassment, and reactions to harassment, are shaped by group norms, the macro (cultural) context, and the micro (peer) context. The talk will conclude with a discussion of the role of schools in altering those norms. 
Web: https://psychology.as.uky.edu/users/csbrow6
The Special Series on The Science of Human Diversity: In the special series of invited lectures, we explore the psychological science of human diversity, spanning topics including the nature of human diversity, attitudes toward it, reasons for lack of diversity in the workplace, and how diversity affects creativity and the scientific process. Over four academic years (2016/2017 to 2019/2020) the series has featured talks from world famous experts on diversity science, who approach the topic from the perspectives of social psychology, organizational behavior, child development, and human decision making. This series investigates case studies including gender, sexual orientation, political ideology, race, and religion, and how we can study the nature and impact of diversity in each case from a scientific perspective.
Bias and the Brain
Join us for the first in a three-part series, Equity Talks for UCSD Staff by Staff
Date: January 24, 2020
Time: 12-1pm
Location: CrossCultural Center, Price Center East, Second Floor
RSVP: nmagpusao@ucsd.edu
BRC Change-A-Thon
Saturday, February 1, 2020
9am: Check-in
7pm: Closing Ceremony
Location: The Basement
Register: changeathon.ucsd.edu
Together we will Envision Smart Cities Through the Lens of Blackness
The BRC, in collaboration with The Basement, is  hosting a Change-A-Thon with the intention of facilitating a creative problem-solving incubator with a focus on The Black Experience. 
UCSD Students from any year and major are encouraged to participate (both undergraduate and graduate).
The Language of Supremacy: Power in Everyday Conversations

Join us for the second in a three-part series, Equity Talks for UCSD Staff by Staff
Date: Monday, February 3, 2020
Time: 12-1pm
Location: CrossCultural Center, Price Center East, Second Floor
RSVP: nmagpusao@ucsd.edu
Celebrate Black History Month with a screening of Harriet
Thursday, February 6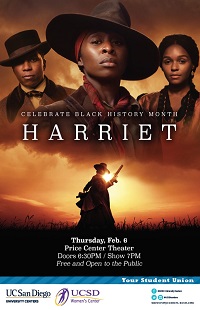 Doors: 6:30pm / Show: 7pm
Price Center Theater
Free and Open to the Public
Join us for a screening of Harriet, doors open at 6:30pm and the show starts at 7pm. The film follows the story of Harriet Tubman, who helped free slaves from the South after escaping slavery herself in 1849. 
Sponsored by University Centers and the Women's Resource Center.
Untold Stories: Black Women and the Vote with Robin Hamilton
Wednesday March 4, 2020, 5-7pm
Price Center Ballroom East
The Women's Center is excited to host filmmaker Robin Hamilton in collaboration with our Women's Herstory Month programming. This program will highlight the activism of two black women who fought tirelessly to secure the right to vote and increase voter access. 
Join us for a screeening of two of Robin's documentary films, This LIttle Light of Mine: The Legacy of Fannie Lou Hamer and Dignity and Defiance: A Portrait of Mary Church Terrell. Following the screening, we will be hosting a discussion and Q&A. 
Identifying White Supremacy Culture in the Workplace

Join us for the latest in the series, Equity Talks for UCSD Staff by Staff
Date: Friday, March 6, 2020
Time: 12-1pm
Location: CrossCultural Center, Price Center East, Second Floor
RSVP: nmagpusao@ucsd.edu