Events
Below you will find campus events related to equity, diversity, and inclusion. If you would like to have your event included please notify us at diversity@ucsd.edu.
To help make your event accessible and enjoyable for all, please refer to UC San Diego's Accessible Event Planning Guide.
The Department of Education Studies Colloquium Series on Educational Equity Presents
WHEN ENOUGH IS ENOUGH: WHITENESS, EDUCATION, AND RACIAL JUSTICE NOW
With Dr. Cheryl E. Matias
Monday, October 14, 2019
12:00 – 1:00 PM: Talk
1:00 – 2:00 PM: Q&A / Reception

Dolores Huerta / Philip Vera Cruz Room
(Student Center A)
The increasing presence of whiteness in education, particularly teacher education, continues to be, as Sleeter (2001) suggests, overwhelming. This, alongside the fact that close to 85% of the U.S. teaching force is white and are oftentimes teaching a student population that is a majority of color, the dynamics of race, whiteness, and emotionality are ever present in the field of education. As such, this presentation defines and psychoanalytically investigates whiteness, particularly the emotionalities of whiteness within teacher education (e.g. what is it, how it impacts ourselves, our teaching and students) and how we, as educators, can address them to support a more racially just educational system. This presentation is open to all disciplines but catered specifically to educators, faculty and students in higher education, and classroom teachers.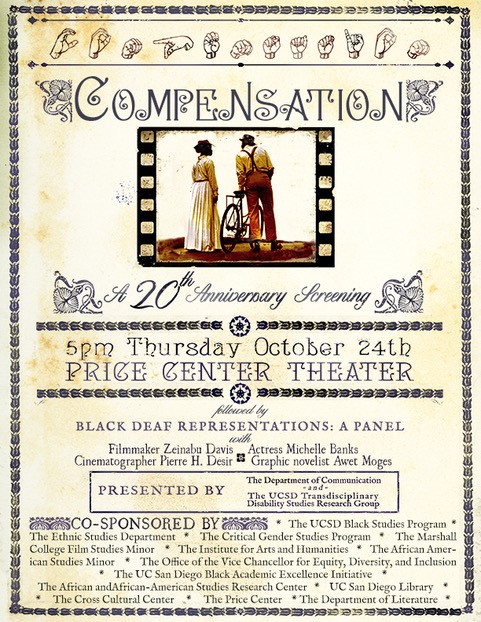 A Twentieth Anniversary Screening of  
Compensation
Followed by
Black Deaf Representations: A panel discussion
With filmmaker Zeinabu irene Davis, actress Michelle Banks, cinematographer Pierre H. Désir, and graphic novelist Awet Moges.

Thursday, Oct 24th 
5pm: Screening of the film Compensation (US, 1999)
7pm: Panel discussing the film and its role as a groundbreaking contribution to critical representation of intersectional dimensions of race, gender and disability.
Price Center Theater

Compensation is a 1999 independent film co-edited, produced and directed by Zeinabu irene Davis and written by March Arthur Chéry, about a young African American couple at the beginning and end of the twentieth century. It stars Michelle A. Banks and John Earl Jelks in the leading roles. Inspired by a 1906 poem from early African American writer, Paul Laurence Dunbar, the unique drama explores aspects of Black culture in both turn of the century and 1990s Chicago in two parallel love stories, both about the relationship between a deaf woman and a hearing man. The film's production began in 1993 and wrapped up in 1999. Compensation has been acclaimed at film festivals worldwide, including Sundance, Burkina Faso's FESPACO, and Toronto International Film Festival and ran on BET-Black Starz, and Sundance cable channels. As Compensation nears its 20th Anniversary, it has garnered deserved renewed attention, such as this recent review in the New Yorker.

 
Panelists
Prof Zeinabu irene Davis is an American filmmaker and professor of the Department of Communication at the University of California, San Diego, and the first African American female faculty member to reach the final stage of merit and promotion in the UC system. Her works in film include narrative, documentary and experimental film. Davis is the 2019 recipient of the George C. Stoney Award for Outstanding Documentary Work from UFVA (University Film and Video Association). She is the first person of color to win this award.  She also won awards from the Black Filmmakers Hall of Fame and the National Black Programming Consortium for Cycles (1989), an experimental short film. In addition, her works such as, A Period Piece (1991), A Powerful Thang (1991), Mother of a River (1995) and Compensation (1999) "continued to garner her awards from numerous organizations and festivals, including the Gordan Parks Award for Best Director from the Independent Feature Project" (cinema.ucla.edu). In 2017, her film "Spirits of Rebellion" was awarded for Best Documentary Feature Film at the San Diego Film Awards.

Michelle Banks is an award-winning actress, writer, director, producer, choreographer, motivational speaker, and teacher. Her television appearances include a YAHOO! Commercial, the ABC's 10-8, the Showtime Series Soul Food, Girlfriends (UPN), and Lifetime's Strong Medicine. She is lead actress in Compensation, directed by Zeinabu Davis. She can also be seen in Hilari Scarl's documentary about the Deaf Entertainers, See What I'm Saying. Michelle credits Jadolphus CW Fraser, an independent filmmaker, for introducing her to filmmaking and co-directing his feature debut, ALWAYS Chasing Love. Michelle was chosen as one of 13 actors for NYC's 2008 ABC Diversity Talent Showcase. She has appeared in plays such as The C.A. Lyons Project at Alliance Theatre in Atlanta, GA, 

Pierre H. Désir is a Cinematographer, Filmmaker & Artist, and a retired professor of cinematography and film and video production of Haitian/Italian background. He served as cinematographer on award winning films such Cycles and Compensation by independent filmmaker Zeinabu irene Davis, and the documentary Bob Kaufman: When I Die I Won't Stay Dead by Billy Woodberry. He is an active filmmaker who has made such films as The Gods and the Thief; ZoNa; and Satchmo; the Arrival of Gabriel on a Wing and a Half-note, which have screened in festivals and universities nationally and internationally.  Currently, Mr. Desir spends his days writing, painting, sculpting and cutting grass.

Awet Moges dreams of a world full of diverse human beings with complete access to stories of ancient mythologies and futuristic science fiction technology. As a writer-artist with more than 15 years of experience, he has worked in a variety of jobs from manufacturing to video game art. He is active in National Black Deaf Advocates (NBDA) and other advocacy organizations and has won several awards of recognition (House of Representatives, Cities of Long Beach, Signal Hill and Los Angeles, and the California Assembly Council people of Mayors). He is currently teaching ASL at CSULB. His first book, Pantheon: Heterotopia is the first among its kind: the first graphic novel by a deaf person and by an Eritrean American, and the first of a brand-new genre: panfuturism. You can follow him on Instagram @thanatologist or subscribe to his blog @ www.hyperboreans.com/heterodoxia

Co-sponsored by: The UCSD Black Studies Program; The Ethnic Studies Department; The Critical Gender Studies Program; The Cross Cultural Center; The Marshall College Film Studies Minor; The Institute for Arts and Humanities; The African American Studies Minor; The Office of the Vice Chancellor for Equity, Diversity, and Inclusion; The UC San Diego Black Academic Excellence Initiative; The African and African-American Studies Research Center; The UC San Diego Library; and The Price Center.
The event is being organized in coordination with a parallel event at the SD Public Library the following day on Friday, Oct 25 (https://sandiego.librarymarket.com/events/compensation-20th-anniversary-screening).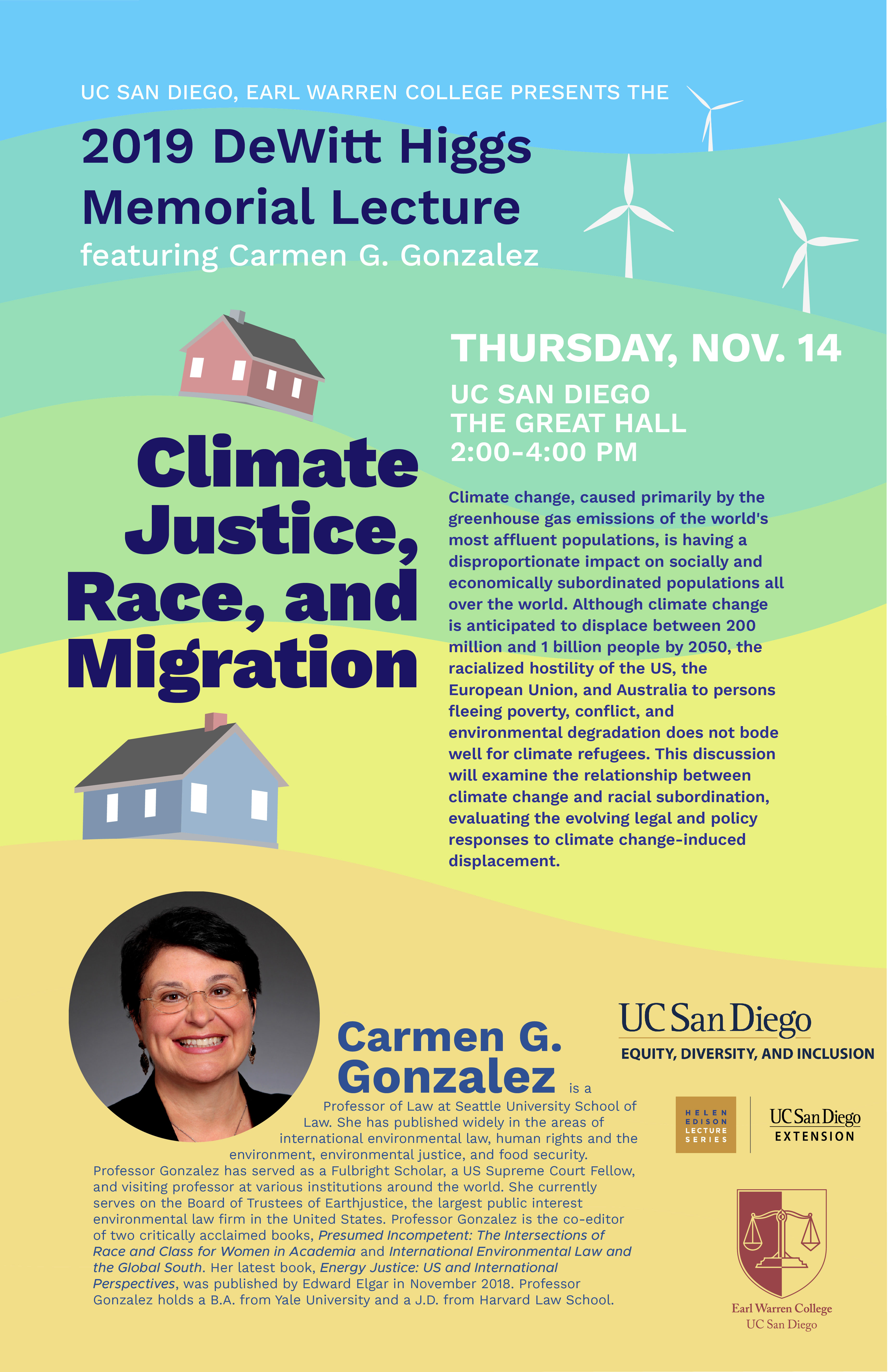 The DeWitt Higgs Memorial Lecture—sponsored by the Law and Society Program, Earl Warren College and the Higgs family—presents:
Climate Justice, Race, and Migration
Featuring Carmen G. Gonzalez
Thursday, November 14, 2019
2:00 - 4:00pm
The Great Hall, Eleanor Roosevelt College
Climate change, caused primarily by the greenhouse gas emissions of the world's most affluent populations, is having a disproportionate impact on socially and economically subordinated populations all over the world. Although climate change is anticipated to displace between 200 million and 1 billion people by 2050, the racialized hostility of the US, the European Union, and Australia to persons fleeing poverty, conflict, and environmental degradation does not bode well for climate refugees. This discussion will examine the relationship between climate change and racial subordination, evaluating the evolving legal and policy responses to climate change-induced displacement.
Distinguished speaker Carmen G. Gonzalez is a Professor of Law at Seattle University School of Law. She has published widely in the areas of international environmental law, human rights and the environment, environmental justice, and food security. Professor Gonzalez has served as a Fulbright Scholar, a US Supreme Court Fellow, and visiting professor at various institutions around the world. She currently serves on the Board of Trustees of Earthjustice, the largest public interest environmental law firm in the United States. Professor Gonzalez is the co-editor of two critically acclaimed books, Presumed Incompetent: The Intersections of Race and Class for Women in Academia and International Environmental Law and the Global South. Her latest book, Energy Justice: US and International Perspectives, was published by Edward Elgar in November 2018. Professor Gonzalez holds a B.A. from Yale University and a J.D. from Harvard Law School.
For more information, please visit the DeWitt Higgs Memorial Lecture website.
Straddling Class: Social Class & the Intersectionality of Identities in Higher Education
With Dr. Sonja Ardoin and Dr. becky martinez Join us in a one-day dynamic conference to discuss social class identity and the intersectionality of our identities with our social class identity in higher education. Dr. Sonja Ardoin and Dr. becky martinez will provide us the framework for our conversation, as they have engaged our higher education communities with their latest publication Straddling Class in the Academy, a book that delineates powerful lessons for higher education practice and policy. The book will also be available for purchase at a 40% discounted rate at the conference, and the authors will be available for signing during lunch.
Friday, December 20, 2019
8:30pm - 3:00pm
California State University San Marcos
Registration: NASPA members $50, non-members $75
(includes refreshments, parking, and lunch)
Sponsored by California State University San Marcos in collaboration with Student Affairs Administraotrs in Higher Education (NASPA)
For more information and registration, please visit the event website.