Events
Below you will find campus events related to equity, diversity, and inclusion. If you would like to have your event included please notify us at diversity@ucsd.edu.
To help make your event accessible and enjoyable for all, please refer to UC San Diego's Accessible Event Planning Guide.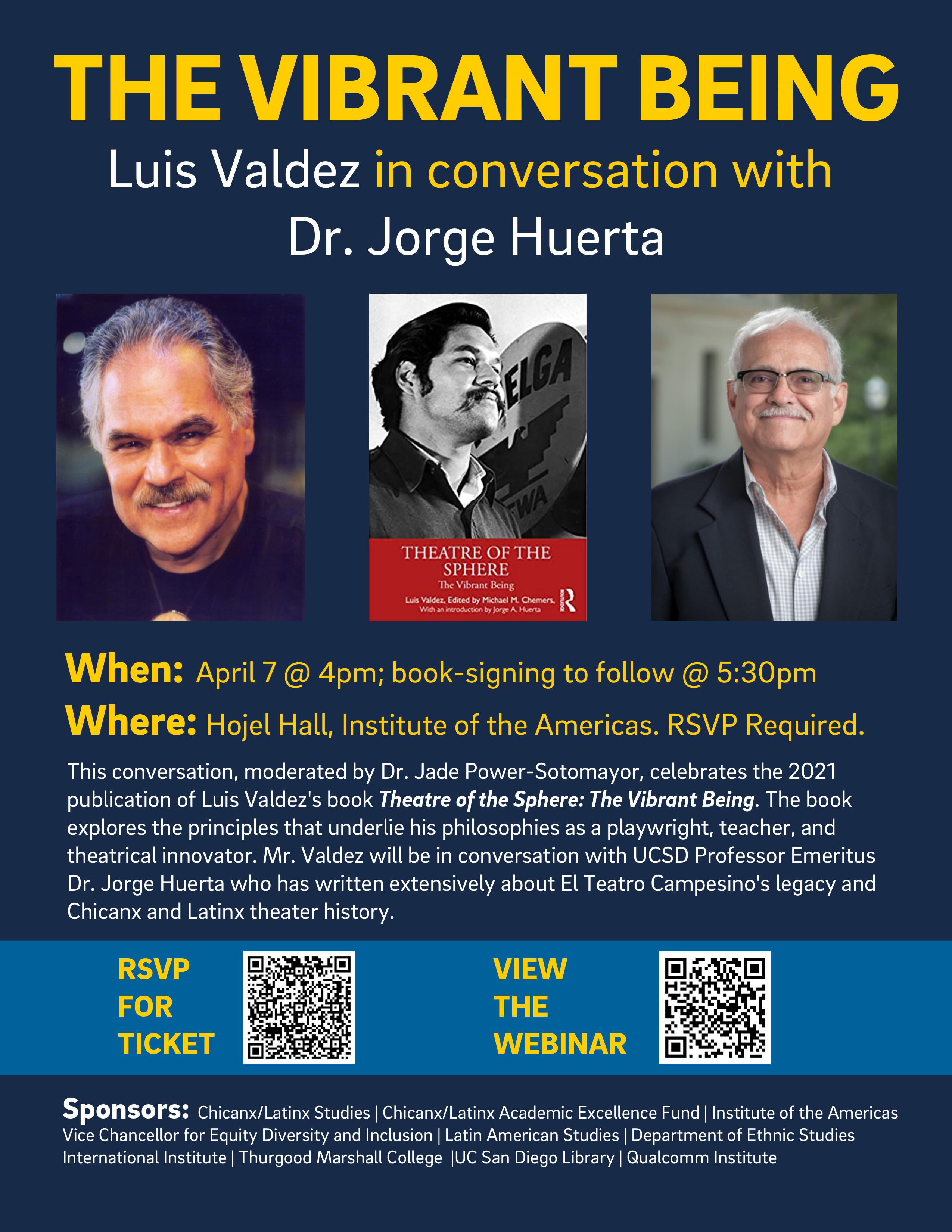 The Vibrant Being: Luis Valdez in Conversation With Dr. Jorge Huerta
This conversation, moderated by Dr. Jade Power-Sotomayor, celebrates the 2021
publication of Luis Valdez's book Theatre of the Sphere: The Vibrant Being. The book
explores the principles that underlie his philosophies as a playwright, teacher, and
theatrical innovator. Mr. Valdez will be in conversation with UCSD Professor Emeritus
Dr. Jorge Huerta who has written extensively about El Teatro Campesino's legacy and
Chicanx and Latinx theater history.
Thursday, April 7th @ 4 p.m. at Hojel Hall, Institute of the Americas
RSVP here.
View webinar here.
Learning Boost Series - Learn Leverage Lead
The Learning Boost Series is a new year-long series of twice-monthly virtual talks sponsored by UC San Diego Human Resources. Held every 1st Friday and 4th Wednesday of the month at 11am-12pm, come meet leaders, dreamers, innovators, and change champions - one talk at a time.
Shaun Travers, Ed.D.
Campus Diversity Officer &
Director, LGBT Resource Center
Wed, Mar 23 @ 11 a.m. - 12 p.m.
"Talking about race: learning, leveraging and leading with cultural competency"
Register here
Let's Talk
Join Shaun Travers, one of UC San Diego's Campus Diversity Officers and a campus employee of over 20 years to hear stories about how his racial identity has impacted his time here at UC San Diego, explore how your knowledge of your own racial identity can impact your success, and how leadership can be deeply informed by cultural competency around race and ethnicity.
---
Register here for the first Social Justice Forum of the new year!
Friday, January 14th, 2022 from 12-12:30 p.m.

Join us in conversation with a panel of interprofessional experts as they share how they've helped to create a more inclusive environment. With the understanding that our UCSDH community is built through a commitment to trusting relationships and Principles of Community, we will provide support with how this is being carried out in our everyday lives as we advance UCSDH anti-racism.