2023 Progress Update
The Plan: Five Years On
In 2018, we began our progress update with the statement: "We are proud of the strides our campus has made to shape our inclusive future, yet we know our work is unfinished. We hope you will join us as we continue to make positive progress." Since then, many individuals, departments, and leaders at UC San Diego answered this call to action, and we have seen a shift in culture and and intentionality across campus to create a more inclusive university community. 
At the center of this progress is the UC San Diego Strategic Plan for Inclusive Excellence (the Plan). Launched in 2017 and written through engagement with our campus through an IdeaWave campaign and focus groups, the Plan centers inclusion, equity, and sense of belonging in all that we do working as our roadmap to build a more welcoming community for all to thrive at UC San Diego. We continue to build this culture of care through our three core tenets: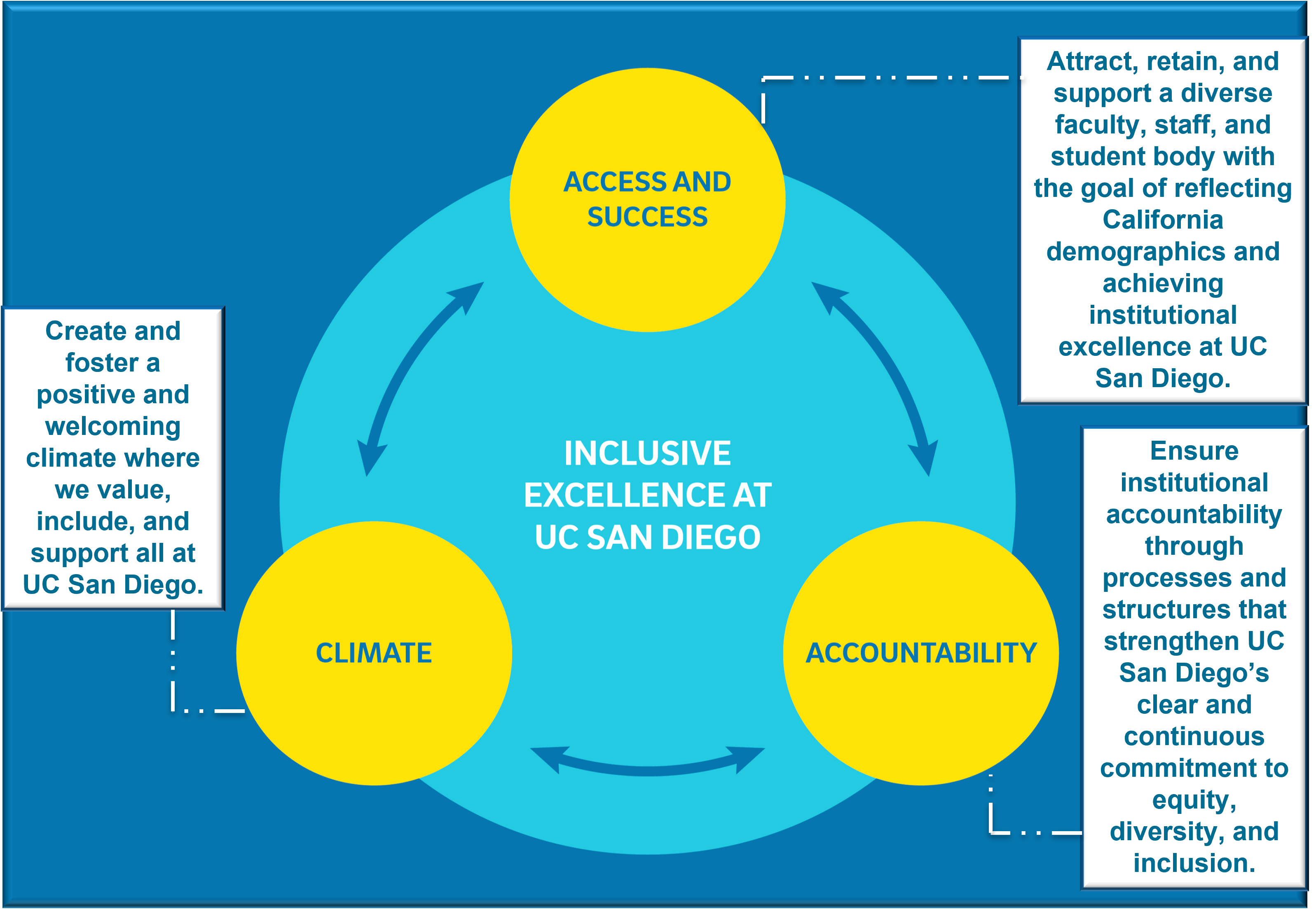 As we continue working toward our collective vision to be a student-centered, research-focused, patient-centric, service-oriented public university, we will take every opportunity to further both our academic and equity goals in service to our students, faculty, and staff.  
To learn more about the UC San Diego Strategic Plan for Inclusive Excellence, visit our webpage, or email us at diversity@ucsd.edu.  
While this is not a comprehensive catalog of all initiatives and leaders at UC San Diego, the aim of this update is to tell a story of our growth as a university community toward achieving inclusive excellence. As you navigate this report you will find that many of our updates fall under more than one or all of our core tenets. In these instances, we have organized our efforts by the core tenet in which they have had the greatest impact.  
Strategic Plan for Inclusive Excellence Core Tenets
An Ongoing Journey 
Martin Luther King, Jr. said, "No work is insignificant. All labor that uplifts humanity has dignity and importance and should be undertaken with painstaking excellence." The efforts we have shared with you in this report demonstrate that our best work is only possible when we come together with the shared goal of achieving institutional excellence. We extend our gratitude to the UC San Diego community and to our executive leadership for joining us and committing to our mission. While we know there is still work to be done, we look forward to continued collaborations and innovations with our campus community to enhance the UC San Diego experience for all.